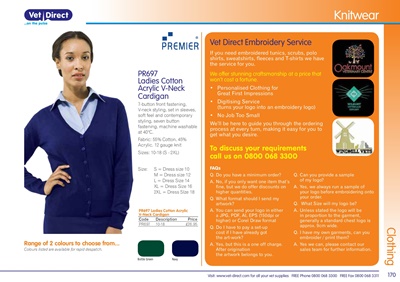 170
Visit: www.vet-direct.com for all your vet supplies FREE Phone 0800 068 3300 FREE Fax 0800 068 3311 Clothing
Knitwear
PR697
Ladies Cotton
Acrylic V-Neck
Cardigan
7-button front fastening,
V-neck styling, set in sleeves,
soft feel and contemporary
styling, seven button
fastening, machine washable
at 40°C.
Fabric: 55% Cotton, 45%
Acrylic. 12 gauge knit
Sizes: 10-18 (S - 2XL)
Range of 2 colours to choose from...
Colours listed are available for rapid despatch.
Navy
Bottle Green
PR697 Ladies Cotton Acrylic
V-Neck Cardigan
Code Description Price
PR697 10-18 £26.95
Size: S = Dress size 10
M = Dress size 12
L = Dress Size 14
XL = Dress Size 16
2XL = Dress SIze 18
Vet Direct Embroidery Service
If you need embroidered tunics, scrubs, polo
shirts, sweatshirts, fleeces and T-shirts we have
the service for you.
We offer stunning craftsmanship at a price that
won't cost a fortune.
• Personalised Clothing for
Great First Impressions
• Digitising Service
(turns your logo into an embroidery logo)
• No Job Too Small
We'll be here to guide you through the ordering
process at every turn, making it easy for you to
get what you desire.
FAQs
Q. Do you have a minimum order?
A. No, if you only want one item that's
fine, but we do offer discounts on
higher quantities.
Q. What format should I send my
artwork?
A. You can send your logo in either
a JPG, PDF, AI, EPS (150dpi or
higher) or Corel Draw format
Q. Do I have to pay a set-up
cost if I have already got
the art-work?
A. Yes, but this is a one off charge.
After origination
the artwork belongs to you.
Q. Can you provide a sample
of my logo?
A. Yes, we always run a sample of
your logo before embroidering onto
your order.
Q. What Size will my logo be?
A. Unless stated the logo will be
in proportion to the garment,
generally a standard chest logo is
approx. 9cm wide.
Q. I have my own garments, can you
embroider / print them?
A. Yes we can, please contact our
sales team for further information.
To discuss your requirements
call us on 0800 068 3300