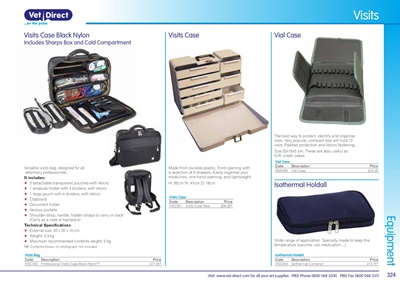 324
Visit: www.vet-direct.com for all your vet supplies FREE Phone 0800 068 3300 FREE Fax 0800 068 3311Equipment
Visits
Vial Case
The best way to protect, identify and organise
vials. Very popular, compact size will hold 12
vials. Padded protection and Velcro fastening.
Size 20x15x5 cm. These are also useful as
O.R. crash cases.
Visits Case
Visits Case Black Nylon
Includes Sharps Box and Cold Compartment
Made from durable plastic, front opening with
a selection of 8 drawers. Easily organise your
medicines, one-hand opening, and lightweight.
H: 36cm W: 47cm D: 18cm
Versatile visits bag, designed for all
veterinary professionals.
It includes:
W 3 detachable transparent pouches with Velcro
W 1 ampoule holder with 4 dividers, with Velcro
W 1 large pouch with 4 dividers, with Velcro
W Clipboard
W Document holder
W Various pockets
W Shoulder strap, handle, hidden straps to carry on back
(Carry as a case or backpack)
Technical Specifications
W External size: 42 x 35 x 15 cm
W Weight: 3.3 kg
W Maximum recommended contents weight: 5 kg
NB: Contents shown on photograph not included
Isothermal Holdall
Wide range of application. Specially made to keep the
temperature (vaccine, vial medication…)
Visits Bag
Code Description Price
VISC002 Professional Visits Case Black Nylon*1 £77.95*
Visits Case
Code Description Price
VISC001 Visits Case New £96.95*
Vial Case
Code Description Price
SNA006 Vial Case £14.25
Isothermal Holdall
Code Description Price
VISC004 Isothermal Container £13.75*