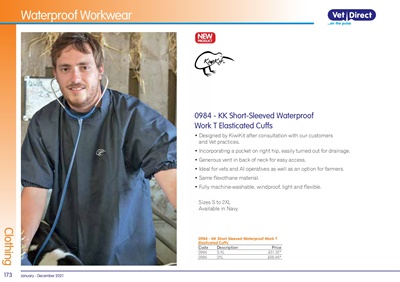 173Clothing January - December 2021
0984 - KK Short-Sleeved Waterproof
Work T Elasticated Cuffs
• Designed by KiwiKit after consultation with our customers
and Vet practices.
• Incorporating a pocket on right hip, easily turned out for drainage.
• Generous vent in back of neck for easy access.
• Ideal for vets and AI operatives as well as an option for farmers.
• Same flexothane material.
• Fully machine-washable, windproof, light and flexible.
Sizes S to 2XL
Available in Navy
Waterproof Workwear
0984 - KK Short Sleeved Waterproof Work T
Elasticated Cuffs
Code Description Price
0984 S-XL £51.32*
0984 2XL £56.46*
NEWPRODUCT