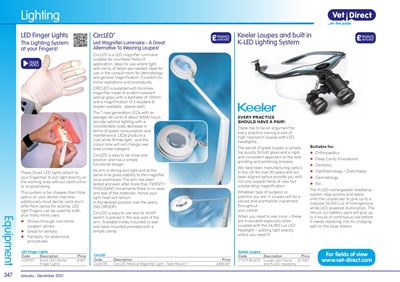 347Equipment January - December 2021
Lighting
CircLED®
Led Magnifier Luminaire - A Great
Alternative To Wearing Loupes!
LED Finger Lights
The Lighting System
at your Fingers!
These Small LED lights attach to
your fingertips to put light directly on
the working area without obstruction
or re-positioning.
This system is far cheaper than fibre
optics on your dental machine -
additionally most dental carts don't
offer fibre optics for scaling, LED
light fingers can be used for both,
plus many more uses.
X Shines through non-nitrile
surgeon gloves
X Great for dentals
X Fantastic for abdominal
procedures
CircLED is a LED magnifier luminaire
suitable for countless fields of
application. Ideal for use where light
and clarity of detail are needed. Ideal for
use in the consult room for dermatology
and general magnification. Excellent for
minor operations and procedures.
CIRCLED is supplied with biconvex
magnifier made of scratch-resistant
optical glass with a diameter of 120mm
and a magnification of 3 diopters (5
diopter available - please ask!)
The 7 new generation LEDs with an
average life cycle of about 50000 hours
provide optimal lighting with a
considerable costs decrease in
terms of power consumption and
maintenance. LEDs produce a
cold white IR-free light - and the
colour tone will not change over
time (unlike halogen).
CircLED is easy to be move and
position and has a simple
functional design.
Its arm is strong and light and at the
same time gives stability to the magnifier
once positioned. The arm has been
tested and even after more than TWENTYTHOUSAND
movements there is no wear
and tear of the materials, hence your
light head will remain
in the desired position over the years.
(NO DROOP).
CircLED is easy to use and its on/off
switch is placed in the rear part of the
arm. Available trolley mounted or wall
and table mounted provided with a
simple clamp.
£FINANCE
AVAILABLE
ONLINE
VIDEO
LED Finger Lights
Code Description Price
LEDF001 Small LED Dental
Finger Lights
£165*
CircLED
Code Description Price
CL001TB CircLED Medical Magnifier Light - Table Mount 1 £485.00*
Keeler Loupes and built in
K-LED Lighting System
EVERY PRACTICE
SHOULD HAVE A PAIR!
There has to be an argument for
every practice owning a pair of
high resolution loupes with LED
headlights…
The secret of great loupes is simple;
top quality Schott glass and a rigid
and consistent approach to the lens
grinding and polishing process
We have been manufacturing optics
in the UK for over 90 years and our
laser aligned optics provide you with
not only superb fields of view but
outstanding magnification
Whatever type of surgeon or
practice you are in Loupes will be a
valued and worthwhile investment
throughout
your career
When you need to see more - these
are invaluable especially when
coupled with the 34,000 Lux LED
headlight - putting light exactly
where you need it!
£FINANCE
AVAILABLE
Suitable for:
X Orthopaedics
X Deep Cavity Procedures
X Dentistry
X Ophthalmology / Distichiasis
X Dermatology
X Etc.
The K-LED rechargeable headlamp
system clips quickly and easily
onto the Loupes bar to give up to a
massive 34,000 Lux of homogenous
white LED powered illumination. The
lithium (Li) battery pack will give up
to 4 hours of continuous use before
it needs replacing into its charging
well on the base station.
For fields of view
Keeler Loupes
Code Description Price
2112-P-BLACK Loupes with frame
and K-LED headlamp £1,595*