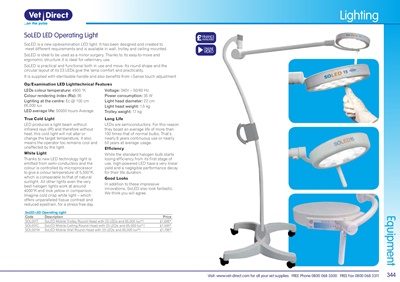 344
Visit: www.vet-direct.com for all your vet supplies FREE Phone 0800 068 3300 FREE Fax 0800 068 3311Equipment
Lighting
SoLED is a new op/examination LED light. It has been designed and created to
meet different requirements and is available in wall, trolley and ceiling mounted.
SoLED is ideal to be used as a minor surgery. Thanks to its easy-to-move and
ergonomic structure it is ideal for veterinary use.
SoLED is practical and functional both in use and move. Its round shape and the
circular layout of its 23 LEDs give the lamp comfort and practicality.
It is supplied with sterilisable handle and also benefits from i-Sense touch adjustment
Op/Examination LED Lighttechnical Features
SoLED LED Operating Light
True Cold Light
LED produces a light beam without
infrared rays (IR) and therefore without
heat, this cold light will not alter or
change the target temperature, it also
means the operator too remains cool and
unaffected by the light.
White Light
Thanks to new LED technology light is
emitted from semi-conductors and the
colour is controlled by microprocessor
to give a colour temperature of 5,500°K,
which is comparable to that of natural
sunlight. All other lights even the very
best halogen lights work at around
4000°K and look yellow in comparison.
Imagine cold crisp white light - which
offers unparalleled tissue contrast and
reduced eyestrain, for a stress free day.
Long Life
LEDs are semiconductors. For this reason
they boast an average life of more than
100 times that of normal bulbs. That's
nearly 6 years continuous use or nearly
50 years at average usage.
Efficiency
While the standard halogen bulb starts
losing efficiency from its first stage of
use, high-powered LED have a very linear
yield and a negligible performance decay
for their life duration.
Good Looks
In addition to these impressive
innovations, SoLED also look fantastic.
We think you will agree.
LEDs colour temperature: 4900 °K
Colour rendering index (Ra): 95
Lighting at the centre: Ec @ 100 cm
65.000 lux
LED average life: 50000 hours Average
Voltage: 240V - 50/60 Hz
Power consumption: 35 W
Light head diameter: 22 cm
Light head weight: 1,5 kg
Trolley weight: 17 kg
£FINANCE
AVAILABLE
ONLINE
VIDEO
SoLED LED Operating Light
Code Description Price
SOL001T SoLED Mobile Trolley Round Head with 23 LEDs and 65,000 lux*1 £1,695*
SOL001C SoLED Mobile Ceiling Round Head with 23 LEDs and 65,000 lux*1 £1,595*
SOL001W SoLED Mobile Wall Round Head with 23 LEDs and 65,000 lux*1 £1,795*