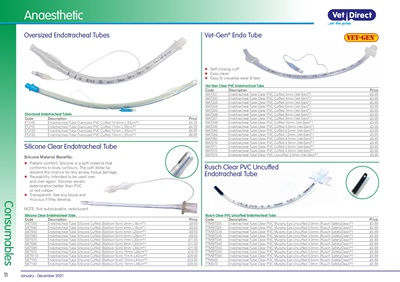 Consumables 11 January - December 2021
Vet-Gen® Endo Tube
X Self-closing cuff
X Easy clean
X Easy to visualise wear & tear
®
Vet-Gen
Silicone Clear Endotracheal Tube
Anaesthetic
Oversized Endotracheal Tubes
Code Description Price
ETJ105 Endotracheal Tube Oversized PVC Cuffed 10.5mm L:33cm*1 £4.25
ETJ110 Endotracheal Tube Oversized PVC Cuffed 11mm L:33cm*1 £4.25
ETJ120 Endotracheal Tube Oversized PVC Cuffed 12mm L:55cm*1 £8.95
ETJ130 Endotracheal Tube Oversized PVC Cuffed 13mm L:55cm*1 £8.95
Silicone Clear Endotracheal Tube
Code Description Price
SIET030 Endotracheal Tube Silicone Cuffed (Balloon 5cm) 3mm L16cm*1 £9.50
SIET040 Endotracheal Tube Silicone Cuffed (Balloon 5cm) 4mm L18cm*1 £9.50
SIET050 Endotracheal Tube Silicone Cuffed (Balloon 5cm) 5mm L20cm*1 £9.50
SIET060 Endotracheal Tube Silicone Cuffed (Balloon 5cm) 6mm L28cm*1 £9.50
SIET070 Endotracheal Tube Silicone Cuffed (Balloon 5cm) 7mm L30cm*1 £11.00
SIET080 Endotracheal Tube Silicone Cuffed (Balloon 5cm) 8mm L33cm*1 £11.00
SIET090 Endotracheal Tube Silicone Cuffed (Balloon 5cm) 9mm L34cm*1 £11.00
SIET010 Endotracheal Tube Silicone Cuffed (Balloon 5cm) 10mm L36cm*1 £16.70
SIET0110 Endotracheal Tube Silicone Cuffed (Balloon 5cm) 11mm L40cm*1 £20.90
SIET120 Endotracheal Tube Silicone Cuffed (Balloon 5cm) 12mm L44cm*1 £23.90
SIET140 Endotracheal Tube Silicone Cuffed (Balloon 5cm) 14mm L48cm*1 £30.50
Vet-Gen Clear PVC Endotracheal Tube
Code Description Price
MAT001 Endotracheal Tube Clear PVC Cuffed 3mm (Vet-Gen)*1 £3.95
MAT002 Endotracheal Tube Clear PVC Cuffed 4mm (Vet-Gen)*1 £3.95
MAT003 Endotracheal Tube Clear PVC Cuffed 5mm (Vet-Gen)*1 £3.95
MAT004 Endotracheal Tube Clear PVC Cuffed 6mm (Vet-Gen)*1 £3.95
MAT005 Endotracheal Tube Clear PVC Cuffed 7mm (Vet-Gen)*1 £3.95
MAT006 Endotracheal Tube Clear PVC Cuffed 8mm (Vet-Gen)*1 £3.95
MAT007 Endotracheal Tube Clear PVC Cuffed 9mm (Vet-Gen)*1 £3.95
MAT008 Endotracheal Tube Clear PVC Cuffed 10mm (Vet-Gen)*1 £3.95
MAT035 Endotracheal Tube Clear PVC Cuffed 5.5mm (Vet-Gen)*1 £3.95
MAT045 Endotracheal Tube Clear PVC Cuffed 6.5mm (Vet-Gen)*1 £3.95
MAT055 Endotracheal Tube Clear PVC Cuffed 7.5mm (Vet-Gen)*1 £3.95
MAT065 Endotracheal Tube Clear PVC Cuffed 8.5mm (Vet-Gen)*1 £3.95
MAT070 Endotracheal Tube Clear PVC Cuffed 4.5mm (Vet-Gen)*1 £3.95
MAT071 Endotracheal Tube Clear PVC Cuffed 2.5mm (Vet-Gen)*1 £3.95
MAT072 Endotracheal Tube Clear PVC Cuffed 3.5mm (Vet-Gen)*1 £3.95
MAT073 Endotracheal Tube Clear PVC Uncuffed 2.0mm (Vet-Gen)*1 £3.95
Rusch Clear PVC Uncuffed Endotracheal Tube
Code Description Price
TTMBTS20 Endotracheal Tube Clear PVC Murphy Eye Uncuffed 2.0mm (Rusch SafetyClear)*1 £0.99
TTMBTS25 Endotracheal Tube Clear PVC Murphy Eye Uncuffed 2.5mm (Rusch SafetyClear)*1 £0.99
TTMBTS30 Endotracheal Tube Clear PVC Murphy Eye Uncuffed 3.0mm (Rusch SafetyClear)*1 £0.99
TTMBTS35 Endotracheal Tube Clear PVC Murphy Eye Uncuffed 3.5mm (Rusch SafetyClear)*1 £0.99
TTMBTS40 Endotracheal Tube Clear PVC Murphy Eye Uncuffed 4.0mm (Rusch SafetyClear)*1 £0.99
TTMBTS45 Endotracheal Tube Clear PVC Murphy Eye Uncuffed 4.5mm (Rusch SafetyClear)*1 £0.99
TTMBTS50 Endotracheal Tube Clear PVC Murphy Eye Uncuffed 5.0mm (Rusch SafetyClear)*1 £0.99
TTMBTS55 Endotracheal Tube Clear PVC Murphy Eye Uncuffed 5.5mm (Rusch SafetyClear)*1 £0.99
TTMBTS60 Endotracheal Tube Clear PVC Murphy Eye Uncuffed 6.0mm (Rusch SafetyClear)*1 £0.99
TTMS65 Endotracheal Tube Clear PVC Murphy Eye Uncuffed 6.5mm (Rusch SafetyClear)*1 £0.99
TTMS70 Endotracheal Tube Clear PVC Murphy Eye Uncuffed 7.0mm (Rusch SafetyClear)*1 £0.99
Oversized Endotracheal Tubes
Rusch Clear PVC Uncuffed
Endotracheal Tube
Silicone Material Benefits:
X Patient comfort. Silicone is a soft material that
conforms to body contours. The soft distal tip
lessens the chance for any airway tissue damage.
X Reusability. Intended to be used over
and over again. Silicone resists
deterioration better than PVC
or red rubber
X Transparent. See any blood and
mucous if they develop.
NOTE: Not autoclavable, radiolucent