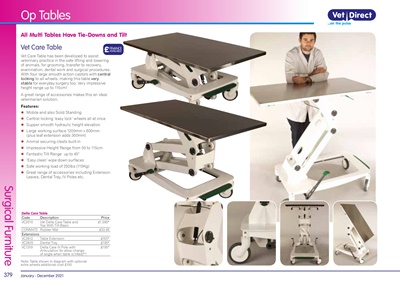 379Surgical Furniture January - December 2021
Op Tables
Vet Care Table
Vet Care Table has been developed to assist
veterinary practice in the safe lifting and lowering
of animals, for grooming, transfer to recovery,
examination, dental work and surgical procedures.
With four large smooth action castors with central
locking to all wheels, making this table very
stable for everyday surgery too. Very impressive
height range up to 115cm!
A great range of accessories makes this an ideal
veterinarian solution.
Features:
X Mobile and also Solid Standing
X Central locking 'easy lock' wheels all at once
X Supper smooth hydraulic height elevation
X Large working surface 1200mm x 600mm
(plus leaf extension adds 300mm)
X Animal securing cleats built-in
X Impressive Height Range from 50 to 115cm
X Fantastic Tilt Range up to 45°
X 'Easy clean' wipe down surfaces
X Safe working load of 250lbs (115Kg)
X Great range of accessories including Extension
Leaves, Dental Tray, IV Poles etc.
All Multi Tables Have Tie-Downs and Tilt
£FINANCE
AVAILABLE
Note: Table shown in diagram with optional
extra wheels additional cost £100
Delta Care Table
Code Description Price
VC2010 Vet Delta Care Table and
Top With Tilt Basic
£1,595*
CONMAT2 Rubber Mat £33.95
Extensions
VC2612 Table Extension £165*
VC2620 Dental Tray £195*
VC7319 Delta Care IV Pole with
Articulation (to allow change
of angle when table is tilted)*1
£195*