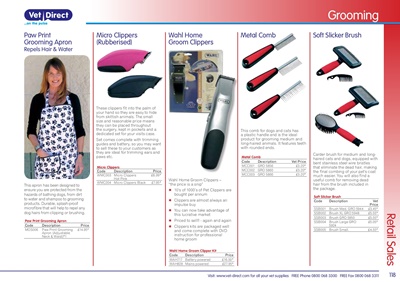 118
Visit: www.vet-direct.com for all your vet supplies FREE Phone 0800 068 3300 FREE Fax 0800 068 3311Retail Sales
Grooming
Paw Print
Grooming Apron
Repels Hair & Water
These clippers fit into the palm of
your hand so they are easy to hide
from skittish animals. The small
size and reasonable price means
they can be placed throughout
the surgery, kept in pockets and a
dedicated set for your visits case.
Set comes complete with trimming
guides and battery, so you may want
to sell these to your customers as
they are ideal for trimming ears and
paws etc.
This comb for dogs and cats has
a plastic handle and is the ideal
product for grooming medium and
long-haired animals. It features teeth
with rounded ends.
Carder brush for medium and longhaired
cats and dogs, equipped with
bent stainless steel wire bristles
that eliminate the dead hair, making
the final combing of your pet's coat
much easier. You will also find a
useful comb for removing dead
hair from the brush included in
the package.
Micro Clippers
(Rubberised)
Wahl Home Groom Clippers -
"the price is a snip"
X 10's of 1000's of Pet Clippers are
bought per annum
X Clippers are almost always an
impulse buy
X You can now take advantage of
this lucrative market
X Priced to sell!! - again and again
X Clippers kits are packaged well
and come complete with DVD
instruction for professional
home groom
Wahl Home
Groom Clippers
Metal Comb
This apron has been designed to
ensure you are protected from the
hazards of bathing dogs, from dirt
to water and shampoo to grooming
products. Durable, splash-proof
microfibre that will help to repel any
dog hairs from clipping or brushing.
Paw Print Grooming Apron
Code Description Price
MOS006 Paw Print Grooming
Apron (Adjustable
Neck & Waist)*1
£14.95*
Metal Comb
Code Description Vet Price
MCC001 GRO 5856 £3.20*
MCC002 GRO 5860 £3.20*
MCC003 GRO 5866 £3.20*
Soft Slicker Brush
Code Description Vet
Price
SSB001 Brush Med. GRO 5944 £3.45*
SSB002 Brush XL GRO 5948 £5.55*
SSB003 Brush GRO 5950 £5.55*
SSB004 Brush Large GRO
5924
£5.05*
SSB005 Brush Small. £4.55*
Micro Clippers
Code Description Price
WMC003 Micro Clippers
Hot Pink
£8.99*
WMC004 Micro Clippers Black £7.95*
Wahl Home Groom Clipper Kit
Code Description Price
WAH717 Battery powered £16.50*
WAH828 Mains powered £27.95*
Soft Slicker Brush