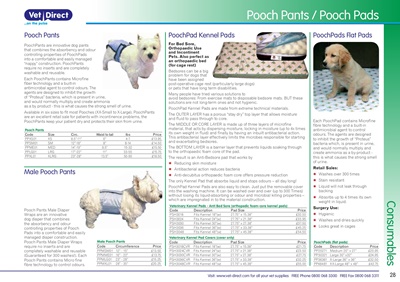 Consumables 28
Visit: www.vet-direct.com for all your vet supplies FREE Phone 0800 068 3300 FREE Fax 0800 068 3311
Pooch Pants / Pooch Pads
PoochPants are innovative dog pants
that combines the absorbency and odour
controlling properties of PoochPads
into a comfortable and easily managed
"nappy" construction. PoochPants
require no inserts and are completely
washable and reusable.
Each PoochPants contains Microfine
fiber technology and a built-in
antimicrobal agent to control odours. The
agents are designed to inhibit the growth
of "Proteus" bacteria, which is present in urine,
and would normally multiply and create ammonia
as a by product - this is what causes the strong smell of urine.
Available in six sizes to fit most Pooches (XX-Small to X-Large). PoochPants
are an excellent retail sale for patients with incontinence problems, the
PoochPants keep your patient dry and protects their skin from urine.
Pooch Pants Male Diaper
Wraps are an innovative
dog diaper that combines
the absorbency and odour
controlling properties of Pooch
Pads into a comfortable and easily
managed diaper construction.
Pooch Pants Male Diaper Wraps
require no inserts and are
completely washable and reusable
(Guaranteed for 300 washes!). Each
Pooch Pants contains Micro fine
fibre technology to control odours.
Pooch Pants
Pooch Pants
Code Size Circ. Waist to tail lbs Price
PPXS01 XS 8.5"-11" 6" 4-7 £13.95
PPSM01 SM 12"-18" 8" 8-14 £14.50
PPME01 MED 14"-19" 9.5" 15-32 £15.50
PPLG01 LRG 17"-22" 11" 33-55 £15.75
PPXL01 XLRG 23"-28" 13.5" 50-90 £18.50
Male Pooch Pants
Code Circumference Price
PPMSM01 12" - 15" £13.50
PPMME01 16" - 22" £13.75
PPMLG01 23" - 28" £15.25
PPMXL01 28" - 35" £20.25
Each PoochPad contains Microfine
fibre technology and a built-in
antimicrobial agent to control
odours. The agents are designed
to inhibit the growth of "Proteus"
bacteria which, is present in urine,
and would normally multiply and
create ammonia as a by-product -
this is what causes the strong smell
of urine.
Retail Sales:
X Washes over 300 times
X Stain resistant
X Liquid will not leak through
backing
X Absorbs up to 4 times its own
weight in liquid.
Surgery Use:
X Hygienic
X Washes and dries quickly
X Looks great in cages
PoochPads Flat Pads
PoochPad Kennel Pads
For Bed Sore,
Orthopaedic Use
and Incontinent
Pets. Also perfect as
an orthopaedic bed
(for cage rest)
Bedsores can be a big
problem for dogs that
have been assigned
post-operative cage rest (particularly large dogs)
or pets that have long term disabilities.
Many people have tried various solutions to
avoid bedsores: From exercise mats to disposable bedsore mats. BUT these
solutions are not long-term ones and not hygienic.
PoochPad Kennel Pads are made from extreme technical materials.
The OUTER LAYER has a porous "stay dry" top layer that allows moisture
and fluid to pass through to core.
The MIDDLE OR CORE LAYER is made up of three layers of microfine
material, that acts by dispersing moisture, locking in moisture (up to 4x times
its own weight in fluid) and finally by having an inbuilt antibacterial action.
This antibacterial layer effectively limits the microbes responsible for starting
and exacerbating bedsores.
The BOTTOM LAYER is a barrier layer that prevents liquids soaking through
to the orthopaedic foam core of the pad.
The result is an Anti-Bedsore pad that works by
X Reducing skin moisture
X Antibacterial action reduces bacteria
X Anti-decubitus orthopaedic foam core offers pressure reduction
The only Kennel Pad that absorbs liquid and stops odours - all day long!
PoochPad Kennel Pads are also easy to clean. Just put the removable cover
into the washing machine. It can be washed over and over (up to 300 Times)
without losing its liquid-absorbing or odour and microbial killing properties -
which are impregnated in to the material construction.
PoochPads (flat pads)
Code Description Price
PP20271 Medium 20" x 27" £20.95
PP30321 Large 30" x32" £24.95
PP36361 X-Large 36" x 36" £32.50
PP48481 XX-Large 48" x 48" £42.75
Veterinary Kennel Pad Covers (cover only)
Code Description Pad Size Price
PSH3018CVR Fits Kennel 18"(w) 27.75" x 15.38" £21.75
PSH3024CVR Fits Kennel 24"(w) 27.75" x 21.38" £23.50
PSH3030CVR Fits Kennel 30"(w) 27.75" x 27.38" £27.75
PSH3036CVR Fits Kennel 36"(w) 27.75" x 33.38" £32.25
PSH3048CVR Fits Kennel 48"(w) 27.75" x 45.38" £55.00
Veterinary Kennel Pads - Anti Bed Sore (orthopedic foam-core kennel pads)
Code Description Pad Size Price
PSH3018 Fits Kennel 18"(w) 27.75" x 15.38" £32.50
PSH3024 Fits Kennel 24"(w) 27.75" x 21.38" £33.95
PSH3030 Fits Kennel 30"(w) 27.75" x 27.38" £37.50
PSH3036 Fits Kennel 36"(w) 27.75" x 33.38" £45.25
PSH3048 Fits Kennel 48"(w) 27.75" x 45.38" £54.50
Male Pooch Pants