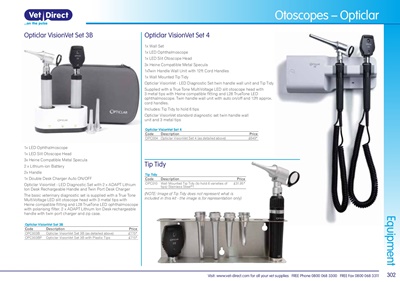 302
Visit: www.vet-direct.com for all your vet supplies FREE Phone 0800 068 3300 FREE Fax 0800 068 3311Equipment
Otoscopes - Opticlar
Opticlar VisionVet Set 3B
Opticlar VisionVet Set 3B
Code Description Price
OPC003B Opticlar VisionVet Set 3B (as detailed above) £775*
OPC003BP Opticlar VisionVet Set 3B with Plastic Tips £715*
1x LED Ophthalmoscope
1x LED Slit Otoscope Head
3x Heine Compatible Metal Specula
2 x Lithium-ion Battery
2x Handle
1x Double Desk Charger Auto ON/OFF
Opticlar VisionVet - LED Diagnostic Set with 2 x ADAPT Lithium
Ion Desk Rechargeable Handle and Twin Port Desk Charger
The basic veterinary diagnostic set is supplied with a True Tone
MultiVoltage LED slit otoscope head with 3 metal tips with
Heine compatible fitting and L28 TrueTone LED ophthalmoscope
with polarising filter. 2 x ADAPT Lithium Ion Desk rechargeable
handle with twin port charger and zip case.
Opticlar VisionVet Set 4
Opticlar VisionVet Set 4
Code Description Price
OPC004 Opticlar VisionVet Set 4 (as detailed above) £649*
1x Wall Set
1x LED Ophthalmoscope
1x LED Slit Otoscope Head
3x Heine Compatible Metal Specula
1xTwin Handle Wall Unit with 12ft Cord Handles
1x Wall Mounted Tip Tidy
Opticlar VisionVet - LED Diagnostic Set twin handle wall unit and Tip Tidy
Supplied with a True Tone MultiVoltage LED slit otoscope head with
3 metal tips with Heine compatible fitting and L28 TrueTone LED
ophthalmoscope. Twin handle wall unit with auto on/off and 12ft approx.
cord handles.
Includes: Tip Tidy to hold 6 tips
Opticlar VisionVet standard diagnostic set twin handle wall
unit and 3 metal tips
Tip Tidy
Tip Tidy
Code Description Price
OPC010 Wall Mounted Tip Tidy (to hold 6 varieties of
tips) Stainless Steel*1
£31.95*
(NOTE: Image of Tip Tidy does not represent what is
included in this kit - the image is for representation only)