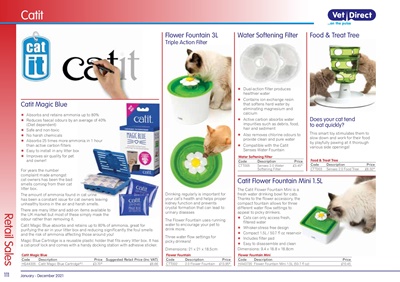 111Retail Sales January - December 2021
Catit
Drinking regularly is important for
your cat's health and helps proper
kidney function and prevents
crystal formation that can lead to
urinary diseases
The Flower Fountain uses running
water to encourage your pet to
drink more.
Three water flow settings for
picky drinkers!
Dimensions: 21 x 21 x 18.5cm
Water Softening Filter
Water Softening Filter
Code Description Price
CTT005 Senses 2.0 Water
Softening Filter
£3.45*
Flower Fountain
Code Description Price
CTT002 2.0 Flower Fountain £13.95*
Food & Treat Tree
Does your cat tend
to eat quickly?
This smart toy stimulates them to
slow down and work for their food
by playfully pawing at it thorough
various side openings!
Catit Magic Blue
Catit Magic Blue
Code Description Price Suggested Retail Price (Inc VAT)
HG44305 Catit Magic Blue Cartridge*1 £3.70* £6.66
For years the number one
complaint made amongst
cat owners has been the bad
smells coming from their cat
litter box.
The amount of ammonia found in cat urine
has been a constant issue for cat owners leaving
unhealthy toxins in the air and harsh smells.
There are many litter and add-on items available to
the UK market but most of these simply mask the
odour rather than removing it.
Catit Magic Blue absorbs and retains up to 80% of ammonia, great for
purifying the air in your litter box and reducing significantly the foul smells
and the risk of ammonia affecting those around you!
Magic Blue Cartridge is a reusable plastic holder that fits every litter box. It has
a cat-proof lock and comes with a handy docking station with adhesive sticker.
W Absorbs and retains ammonia up to 80%
W Reduces faecal odours by an average of 40%
(Diet dependent)
W Safe and non-toxic
W No harsh chemicals
W Absorbs 25 times more ammonia in 1 hour
than active carbon filters
W Easy to install in any litter box
W Improves air quality for pet
and owner!
Catit Flower Fountain Mini 1.5L
Flower Fountain Mini
Code Description Price
HA43735 Flower Fountain Mini 1.5L (50.7 fl oz) £10.45
Food & Treat Tree
Code Description Price
CTT003 Senses 2.0 Food Tree £8.50*
The Catit Flower Fountain Mini is a
fresh water drinking bowl for cats.
Thanks to the flower accessory, the
compact fountain allows for three
different water flow settings to
appeal to picky drinkers.
W Cats can only access fresh,
filtered water
W Whisker-stress free design
W Compact 1.5L / 50.7 fl oz reservoir
W Includes filter pad
W Easy to disassemble and clean
Dimensions: 9.4 x 18.8 x 18.8cm
Flower Fountain 3L
Triple Action Filter
W Dual-action filter produces
healthier water
W Contains ion exchange resin
that softens hard water by
eliminating magnesium and
calcium
W Active carbon absorbs water
impurities such as debris, food,
hair and sediment
W Also removes chlorine odours to
provide clean and pure water
W Compatible with the Catit
Senses Water Fountain