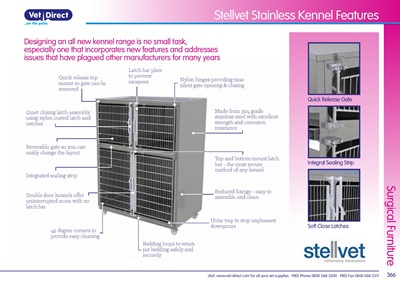 366
Visit: www.vet-direct.com for all your vet supplies FREE Phone 0800 068 3300 FREE Fax 0800 068 3311Surgical Furniture
Designing an all new kennel range is no small task, especially one that incorporates many new
features and addresses issues that have plagued other manufacturers for many years.
At Vet Direct we do not compromise and believe what has been created offers the finest solution
available to the discerning veterinarian today. Don't just take our word for it, experience the
difference that is Stellvet for yourself.
Nylon hinges providing near
silent gate opening & closing
Quick release top
mount so gate can be
removed
Quiet closing latch assembly
using nylon coated latch and
catches
Reversible gate so you can
easily change the layout
Integrated sealing strip
Double door kennels offer
uninterrupted acces with no
latch bar 45 degree corners to
provide easy cleaning
Reduced fixings - easy to
assemble and clean
Urine trap to stop unpleasant
downpours
Bedding loops to retain
pet bedding safely and
securely
Top and booom mount latch
bar - the most secure
method of any kennel
Made from 304 grade
stainless steel with excellent
strength and corrosion
resistance
Latch bar plate
to prevent
escapees
Soo Close Latches Integral Sealing Strip Quick Release Gate
45 degree corners to
provide easy cleaning
Bedding loops to retain
pet bedding safely and
securely
Soo Close Latches Integral Sealing Strip Quick Release Gate
easily change the layout
Integrated sealing strip
Double door kennels offer
uninterrupted acces with no
latch bar 45 degree corners to
provide easy cleaning
Reduce
assemb
Urine trap
downpou
Bedding loops to retain
pet bedding safely and
securely
Top and
bar - th
method
Soo Close Latches Integral Sealing Strip Quick R
Quick release top
mount so gate can be
removed
Quiet closing latch assembly
using nylon coated latch and
catches
Reversible gate so you can
easily change the layout
Integrated sealing strip
Double door kennels offer
uninterrupted acces with no
latch bar 45 degree corners to
provide easy cleaning
Be
pe
se
to preve
escapee
Soo Close Latches Integral
Designing an all new kennel range is no small task,
especially one that incorporates new features and addresses
issues that have plagued other manufacturers for many years
Soft Close Latches
Integral Sealing Strip
Quick Release Gate
Stellvet Stainless Kennel Features