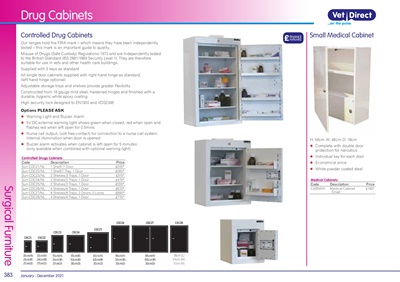 383Surgical Furniture January - December 2021
Drug Cabinets
Small Medical Cabinet
H: 56cm W: 46cm D: 18cm
X Complete with double door
protection for narcotics
X Individual key for each door
X Economical price
X White powder coated steel
Medical Cabinets
Code Description Price
CABN001 Medical Cabinet
- Small
£180*
Controlled Drug Cabinets
Our ranges hold the FIRA mark - which means they have been independently
tested - this mark is an important guide to quality.
Misuse of Drugs (Safe Custody) Regulations 1973 and are Independently tested
to the British Standard (BS 2881:1989 Security Level 1). They are therefore
suitable for use in vets and other health care buildings.
Supplied with 3 keys as standard
All single door cabinets supplied with right hand hinge as standard,
(left hand hinge optional)
Adjustable storage trays and shelves provide greater flexibility
Constructed from 16 gauge mild steel, hardened hinges and finished with a
durable, hygienic white epoxy coating
High security lock designed to EN1300 and VDS2396
Options PLEASE ASK
X Warning Light and Buzzer Alarm
X 5V DC external warning light shows green when closed, red when open and
flashes red when left open for 2.5mins
X Nurse call output, (volt free contact) for connection to a nurse call system.
Internal illumination when door is opened
X Buzzer alarm activates when cabinet is left open for 5 minutes
(only available when combined with optional warning light)
98cm (L)
54cm (W)
57cm (H)
Controlled Drugs Cabinets
Code Description Price
Sun-CDC21/NL 1 Shelf/ 1 Door £205*
Sun-CDC22/NL 1 Shelf/1 Tray, 1 Door £265*
Sun-CDC23/NL 2 Shelves/2 Trays, 1 Door £315*
Sun-CDC24/NL 2 Shelves/2 Trays, 1 Door £470*
Sun-CDC25/NL 2 Shelves/2 Trays, 1 Door £555*
Sun-CDC26/NL 4 Shelves/4 Trays, 1 Door £670*
Sun-CDC27/NL 8 Shelves/8 Trays, 2 Doors, 2 Locks £890*
Sun-CDC28/NL 4 Shelves/4 Trays, 1 Door £775*
£FINANCE
AVAILABLE