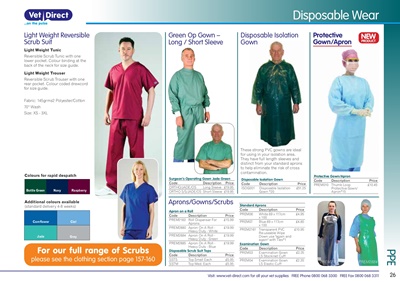 PPE 26
Visit: www.vet-direct.com for all your vet supplies FREE Phone 0800 068 3300 FREE Fax 0800 068 3311
Disposable Wear
Disposable Isolation
Gown
These strong PVC gowns are ideal
for using in your isolation area.
They have full length sleeves and
distinct from your standard aprons
to help eliminate the risk of cross
contamination.
Green Op Gown -
Long / Short Sleeve
Light Weight Tunic
Reversible Scrub Tunic with one
lower pocket. Colour binding at the
back of the neck for size guide.
Light Weight Trouser
Reversible Scrub Trouser with one
rear pocket. Colour coded drawcord
for size guide.
Fabric: 145grms2 Polyester/Cotton
70° Wash
Size: XS - 3XL
Light Weight Reversible
Scrub Suit
Colours for rapid despatch
Additional colours available
(standard delivery 4-8 weeks)
Jade
Cornflower
Bottle Green Navy Raspberry
Ciel
Grey
Aprons/Gowns/Scrubs
PREM2884
Surgeon's Operating Gown Jade Green
Code Description Price
ORTHO/JADE/OS Long Sleeve £19.95
ORTHO S/S/JADE/OS Short Sleeve £19.95
Disposable Isolation Gown
Code Description Price
ISOG001 Disposable Isolation
Gown *20
£51.25
Protective
Gown/Apron
Protective Gown/Apron
Code Description Price
PREM010 Thumb Loop
Protective Gown/
Apron*15
£10.45
NEWPRODUCT
Apron on a Roll
Code Description Price
PREM2160 Roll Dispenser For
Aprons
£15.99
PREM2880 Apron On A Roll -
Heavy Duty - White
£19.99
PREM2884 Apron On A Roll -
Heavy Duty - Green
£19.99
PREM2885 Apron On A Roll -
Heavy Duty - Blue
£19.99
Disposable Scrub Suit Tops
Code Description Price
SSTS Top Small Each £5.95
SSTM Top Med. Each £5.95
Standard Aprons
Code Description Price
PREM06 White 69 x 117cm
x 100
£4.95
PREM07 Blue 69 x 117cm
x 100
£4.85
PREM2161 Transparent PVC
Re-useable Wipe
Down use "again and
again" with Ties*1
£10.95
Examination Gown
Code Description Price
PREM03 Examination Gown
LS Stockinet Cuff
£2.25
PREM04 Examination Gown
LS Elastic Cuff
£2.35
For our full range of Scrubs
please see the clothing section page 157-160 PREM2161