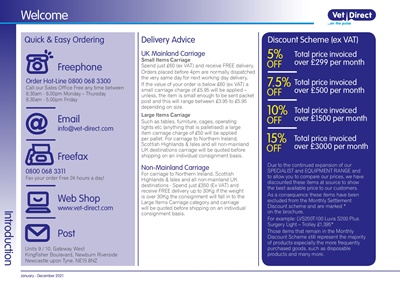 Introduction
Welcome
Delivery Advice
UK Mainland Carriage
Small Items Carriage
Spend just £60 (ex VAT) and receive FREE delivery.
Orders placed before 4pm are normally dispatched
the very same day for next working day delivery.
If the value of your order is below £60 (ex VAT) a
small carriage charge of £5.95 will be applied -
unless, the item is small enough to be sent packet
post and this will range between £3.95 to £5.95
depending on size.
Large Items Carriage
Such as tables, furniture, cages, operating
lights etc (anything that is palletised) a large
item carriage charge of £50 will be applied
per pallet. For carriage to Northern Ireland,
Scottish Highlands & Isles and all non-mainland
UK destinations carriage will be quoted before
shipping on an individual consignment basis.
Non-Mainland Carriage
For carriage to Northern Ireland, Scottish
Highlands & Isles and all non-mainland UK
destinations - Spend just £350 (Ex VAT) and
receive FREE delivery up to 30Kg if the weight
is over 30Kg the consignment will fall in to the
Large Items Carriage category and carriage
will be quoted before shipping on an individual
consignment basis.
Freephone
Order Hot-Line 0800 068 3300
Call our Sales Office Free any time between
8.30am - 6.00pm Monday - Thursday
8.30am - 5.00pm Friday
Quick & Easy Ordering
Freefax
0800 068 3311
Fax your order Free 24 hours a day!
Email
Web Shop
Post
Units 9 / 10, Gateway West
Kingfisher Boulevard, Newburn Riverside
Newcastle upon Tyne. NE15 8NZ
Due to the continued expansion of our
SPECIALIST and EQUIPMENT RANGE and
to allow you to compare our prices, we have
discounted these items at source to show
the best available price to our customers.
As a consequence these items have been
excluded from the Monthly Settlement
Discount scheme and are marked *
on the brochure.
For example: LVS200T-100 Luvis S200 Plus
Surgery Light - Trolley £1,395*
Those items that remain in the Monthly
Discount Scheme still represent the majority
of products especially the more frequently
purchased goods, such as disposable
products and many more.
5%
OFF
Total price invoiced
over £299 per month
7.5%
OFF
Total price invoiced
over £500 per month
10%
OFF
Total price invoiced
over £1500 per month
15%
OFF
Total price invoiced
over £3000 per month
Discount Scheme (ex VAT)
January - December 2021