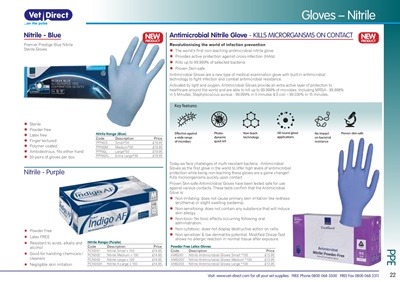 PPE 22
Visit: www.vet-direct.com for all your vet supplies FREE Phone 0800 068 3300 FREE Fax 0800 068 3311
Gloves - Nitrile
Nitrile - Purple
X Powder Free
X Latex FREE
X Resistant to acids, alkalis and
alcohol
X Good for handling chemicals /
cleaners
X Negligible skin irritation
Nitrile Range (Purple)
Code Description Price
PCN001 Nitrile Small x 100 £14.95
PCN002 Nitrile Medium x 100 £14.95
PCN003 Nitrile Large x 100 £14.95
PCN003X Nitrile X-Large x 100 £14.95
Nitrile Range (Blue)
Code Description Price
PPNGS Small*50 £19.95
PPNGM Medium*50 £19.95
PPNGL Large*50 £19.95
PPNGXL Extra Large*50 £19.95
Premier Prestige Blue Nitrile
Sterile Gloves
Nitrile - Blue
X Sterile
X Powder free
X Latex free
X Finger textured
X Polymer coated
X Ambidextrous, fits either hand
X 50 pairs of gloves per box
NEWPRODUCT
Powder Free Latex Gloves
Code Description Price
AMG001 Nitrile Antimicrobial Gloves Small *100 £13.95
AMG002 Nitrile Antimicrobial Gloves Medium *100 £13.95
AMG003 Nitrile Antimicrobial Gloves Large *100 £13.95
NEWPRODUCT
Antimicrobial Nitrile Glove - KILLS MICRORGANSMS ON CONTACT
Revolutionising the world of infection prevention
X The world's first non-leaching antimicrobial nitrile glove
X Provides active protection against cross-infection (HAIs)
X Kills up to 99.999% of selected bacteria
X Proven Skin-safe
Antimicrobial Gloves are a new type of medical examination glove with built-in antimicrobial
technology to fight infection and combat antimicrobial resistance.
Activated by light and oxygen, Antimicrobial Gloves provide an extra active layer of protection to
healthcare around the world and are able to kill up to 99.999% of microbes. Including MRSA - 99.998%
in 5 Minutes, Staphylococcus aureus - 99.999% in 5 minutes & E.coli - 99.030% in 15 minutes.
Today we face challenges of multi-resistant bacteria - Antimicrobial
Gloves as the first glove in the world to offer high levels of antimicrobial
protection while being non-leaching these gloves are a game changer!
Kills microorganisms quickly upon contact
Proven Skin-safe Antimicrobial Gloves have been tested safe for use
against various contacts. These tests confirm that the Antimicrobial
Glove is:
X Non-irritating: does not cause primary skin irritation like redness
(erythema) or slight swelling (oedema).
X Non-sensitising: does not contain any substance that will induce
skin allergy.
X Non-toxic: No toxic effects occurring following oral
administration.
X Non-cytotoxic: does not display destructive action on cells.
X Non-sensitizer & low dermatitis potential: Modified Draize Test
shows no allergic reaction in normal tissue after exposure.