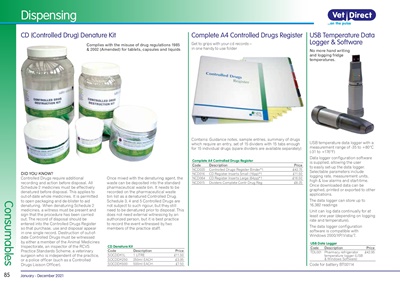 Consumables 85 January - December 2021
USB Temperature Data
Logger & Software
USB temperature data logger with a
measurement range of -35 to +80°C
(-31 to +176° F)
Data logger configuration software
is supplied, allowing the user
to easily set-up the data logger.
Selectable parameters include
logging rate, measurement units,
high & low alarms and start-time.
Once downloaded data can be
graphed, printed or exported to other
applications.
The data logger can store up to
16,382 readings
Unit can log data continually for at
least one year (depending on logging
rate and temperature).
The data logger configuration
software is compatible with
Windows 2000/XP/Vista/7.
CD (Controlled Drug) Denature Kit
DID YOU KNOW?
Controlled Drugs require additional
recording and action before disposal. All
Schedule 2 medicines must be effectively
denatured before disposal. This applies to
out-of-date whole medicines. It is permitted
to open packaging and de-blister to aid
denaturing. When denaturing Schedule 2
medicines, a witness must be present and
sign that the procedure has been carried
out. The record of disposal should be
entered into the Controlled Drugs Register
so that purchase, use and disposal appear
in one single record. Destruction of out-ofdate
Controlled Drugs must be witnessed
by either a member of the Animal Medicines
Inspectorate, an inspector of the RCVS
Practice Standards Scheme, a veterinary
surgeon who is independent of the practice,
or a police officer (such as a Controlled
Drugs Liaison Officer).
Once mixed with the denaturing agent, the
waste can be deposited into the standard
pharmaceutical waste bin. It needs to be
recorded on the pharmaceutical waste
bin list as a denatured Controlled Drug.
Schedule 3, 4 and 5 Controlled Drugs are
not subject to such rigour, but they still
need to be denatured prior to disposal. This
does not need external witnessing by an
authorized person, but it is best practice
to record the event witnessed by two
members of the practice staff.
Complete A4 Controlled Drugs Register
Contains: Guidance notes, sample entries, summary of drugs
which require an entry, set of 15 dividers with 15 tabs enough
for 15 individual drugs (spare dividers are available separately)
Get to grips with your cd records -
in one handy to use folder
CD Denature Kit
Code Description Price
SOCDDK1L 1 LITRE £11.50
SOCDDK250 250ml EACH £3.95
SOCDDK500 500ml EACH £7.50
Complete A4 Controlled Drugs Register
Code Description Price
NCD020 Controlled Drugs Register Binder*1 £42.75
NCD016 CD Register Inserts Small (16pp)*1 £11.50
NCD064 CD Register Inserts Large (64pp)*1 £16.50
NCD015 Dividers Complete Contr Drug Reg £8.25
No more hand writing
and logging fridge
temperatures.
USB Data Logger
Code Description Price
TDL001 Pharmacy refrigerator
temperature logger (USB
& Windows Software)
£42.95
Complies with the misuse of drug regulations 1985
& 2002 (Amended) for tablets, capsules and liquids
Code for battery BT00114
Dispensing