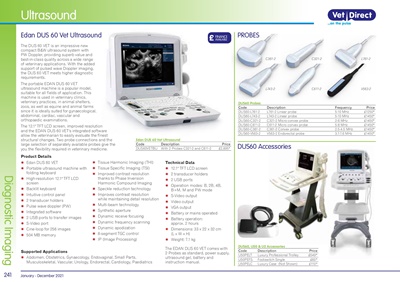 241Diagnostic Imaging January - December 2021
Ultrasound
Technical Data
X 12.1" TFT LCD screen
X 2 transducer holders
X 2 USB ports
X Operation modes: B, 2B, 4B,
B+M, M and PW mode
X S-Video output
X Video output
X VGA output
X Battery or mains operated
X Battery operation:
approx. 2 hours
X Dimensions: 33 x 22 x 32 cm
(L x W x H)
X Weight: 7.1 kg
The EDAN DUS 60 VET comes with
2 Probes as standard, power supply,
ultrasound gel, battery and
instruction manual.
Edan DUS 60 Vet Ultrasound
The DUS 60 VET is an impressive new
compact B&W ultrasound system with
PW Doppler, providing superb value and
best-in-class quality across a wide range
of veterinary applications. With the added
support of pulsed wave Doppler imaging,
the DUS 60 VET meets higher diagnostic
requirements.
The portable EDAN DUS 60 VET
ultrasound machine is a popular model,
suitable for all fields of application. This
machine is used in veterinary clinics,
veterinary practices, in animal shelters,
zoos, as well as equine and animal farms
since it is ideally suited for gynaecological,
abdominal, cardiac, vascular and
orthopaedic examinations.
The 12.1" TFT LCD screen, improved resolution
and the EDAN DUS 60 VET's integrated software
allow the veterinarian to easily evaluate the finest
structural changes. Two probe connections and the
large selection of separately available probes give the
you the flexibility required in veterinary medicine.
Product Details
£ FINANCE
AVAILABLE
C361-2 L761-2
L743-2
C321-2
C611-2 V563-2
DUS60, U50 & U2 Accessories
Code Description Price
U50PELT Luxury Professional Trolley £549*
U50PEFS Footswitch Single £60*
U50PELC Luxury Case (Not Shown) £110*
X Edan DUS 60 VET
X Portable ultrasound machine with
folding keyboard
X High-resolution 12.1" TFT LCD
screen
X Backlit keyboard
X Intuitive control panel
X 2 transducer holders
X Pulse wave doppler (PW)
X Integrated software
X 2 USB ports to transfer images
X S-Video port
X Cine-loop for 256 images
X 504 MB memory
X Tissue Harmonic Imaging (THI)
X Tissue Specific Imaging (TSI)
X Improved contrast resolution
thanks to Phase Inversion
Harmonic Compound Imaging
X Speckle reduction technology
X Improves contrast resolution
while maintaining detail resolution
X Multi-beam technology
X Synthetic aperture
X Dynamic receive focusing
X Dynamic frequency scanning
X Dynamic apodization
X 8-segment TGC control
X IP (Image Processing)
Supported Applications
X Abdomen, Obstetrics, Gynaecology, Endovaginal, Small Parts,
Musculoskeletal, Vascular, Urology, Endorectal, Cardiology, Paediatrics
Edan DUS 60 Vet Ultrasound
Code Description Price
DUS60VETBU With 2 Probes C321-2 and C611-2 £2,895* DUS60 Accessories
PROBES
DUS60 Probes
Code Description Frequency Price
DUS60-L761-2 L761-2 Linear probe 5-10 MHz £1250*
DUS60-L743-2 L743-2 Linear probe 5-10 MHz £1450*
DUS60-C321-2 C321-2 Micro convex probe 2-6 MHz £1450*
DUS60-C611-2 C611-2 Micro convex probe 5-8 MHz £1450*
DUS60-C361-2 C361-2 Convex probe 2.5-4.5 MHz £1450*
DUS60-V563-2 V563-2 Endorectal probe 3.7-7.6 MHz £1450*