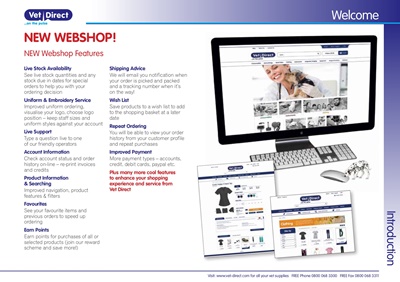 Introduction
Welcome
NEW WEBSHOP!
NEW Webshop Features
Live Stock Availability
See live stock quantities and any
stock due in dates for special
orders to help you with your
ordering decision
Uniform & Embroidery Service
Improved uniform ordering,
visualise your logo, choose logo
position - keep staff sizes and
uniform styles against your account
Live Support
Type a question live to one
of our friendly operators
Account Information
Check account status and order
history on-line - re-print invoices
and credits
Product Information
& Searching
Improved navigation, product
features & filters
Favourites
See your favourite items and
previous orders to speed up
ordering
Earn Points
Earn points for purchases of all or
selected products (join our reward
scheme and save more!)
Shipping Advice
We will email you notification when
your order is picked and packed
and a tracking number when it's
on the way!
Wish List
Save products to a wish list to add
to the shopping basket at a later
date
Repeat Ordering
You will be able to view your order
history from your customer profile
and repeat purchases
Improved Payment
More payment types - accounts,
credit, debit cards, paypal etc.
Plus many more cool features
to enhance your shopping
experience and service from
Vet Direct
Visit: www.vet-direct.com for all your vet supplies FREE Phone 0800 068 3300 FREE Fax 0800 068 3311