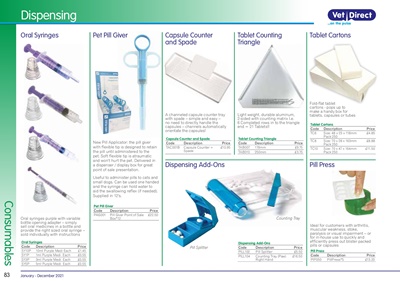 Consumables 83 January - December 2021
Dispensing
Oral Syringes Tablet Counting
Triangle
Pet Pill Giver Capsule Counter
and Spade
Light weight, durable aluminum,
2-sided with counting matrix I.e.
6 Completed rows in to the triangle
end = 21 Tablets!!
A channeled capsule counter tray
with spade - simple and easy -
no need to directly handle the
capsules - channels automatically
orientate the capsules!
Ideal for customers with arthritis,
muscular weakness, stoke,
paralysis or visual impairment - or
for in-house use to quickly and
efficiently press out blister packed
pills or capsules
Dispensing Add-Ons Pill Press
Tablet Cartons
Counting Tray
Pill Splitter
Fold-flat tablet
cartons - pops up to
make a handy box for
tablets, capsules or tubes
New Pill Applicator: the pill giver
with flexible tip is designed to retain
the pill until administered to the
pet. Soft flexible tip is atraumatic
and won't hurt the pet. Delivered in
a dispenser / display box for great
point of sale presentation.
Useful to administer pills to cats and
small dogs. Can be used one handed
and the syringe can hold water to
aid the swallowing reflex (if needed).
Supplied in 12's.
Pet Pill Giver
Code Description Price
PAG001 Pill Giver Point of Sale
Box*12
£22.50
Dispensing Add-Ons
Code Description Price
PILL102 Pill Splitter £5.50
PILL104 Counting Tray (Paw)
Right Hand
£16.50
Tablet Counting Triangle
Code Description Price
TAB007 178mm £9.75
TAB010 250mm £3.75
Tablet Cartons
Code Description Price
TC6 Size: 48 x 23 x 118mm
Pack 250
£4.85
TC8 Size: 70 x 28 x 163mm
Pack 250
£8.88
TC10 Size: 70 x 47 x 164mm
Pack 250
£11.50
Pill Press
Code Description Price
PIP050 PillPress*5 £13.20
Capsule Counter and Spade
Code Description Price
TAC001B Capsule Counter +
Spade
£10.95
Oral syringes purple with variable
bottle opening adapter - simply
sell oral medicines in a bottle and
provide the right sized oral syringe -
sold individually with instructions
Oral Syringes
Code Description Price
SY10P 10ml Purple Medi Each £1.45
SY1P 1ml Purple Medi Each £0.55
SY3P 3ml Purple Medi Each £0.55
SY5P 5ml Purple Medi Each £0.55