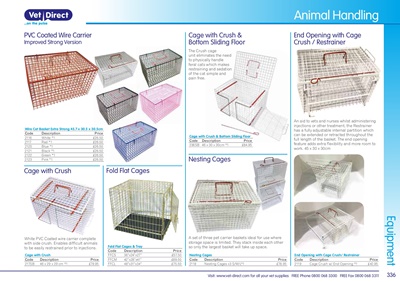 336
Visit: www.vet-direct.com for all your vet supplies FREE Phone 0800 068 3300 FREE Fax 0800 068 3311Equipment
Animal Handling
An aid to vets and nurses whilst administering
injections or other treatment, the Restrainer
has a fully adjustable internal partition which
can be extended or retracted throughout the
full length of the basket. The end opening
feature adds extra flexibility and more room to
work. 45 x 30 x 30cm
End Opening with Cage
Crush / Restrainer
End Opening with Cage Crush/ Restrainer
Code Description Price
2119 Cage Crush w/ End Opening *1 £42.95
PVC Coated Wire Carrier
Cage with Crush
Nesting Cages
White PVC Coated wire carrier complete
with side crush. Enables difficult animals
to be easily restrained prior to injections.
A set of three pet carrier baskets ideal for use where
storage space is limited. They stack inside each other
so only the largest basket will take up space.
Fold Flat Cages
Improved Strong Version
The Crush cage
unit eliminates the need
to physically handle
feral cats which makes
restraining and sedation
of the cat simple and
pain free.
Wire Cat Basket Extra Strong 45.7 x 30.5 x 30.5cm
Code Description Price
2116 White *1 £26.50
2117 Red *1 £26.50
2120 Blue *1 £26.50
2121 Black *1 £26.50
2122 Green *1 £26.50
2123 Pink *1 £26.50
Cage with Crush
Code Description Price
217SB 46 x 29 x 29 cm *1 £79.95
Nesting Cages
Code Description Price
2118 Nesting Cages x3 S/M/L*1 £78.95
Fold Flat Cages & Tray
Code Description Price
FFCS 36"x24"x27" £57.50
FFCM 42"x28"x41" £69.50
FFCL 48"x31"x34" £75.50
Cage with Crush & Bottom Sliding Floor
Code Description Price
236SB 46 x 30 x 30cm *1 £84.95
Cage with Crush &
Bottom Sliding Floor